Former Hoosier Robert Vaden arrested in Bloomington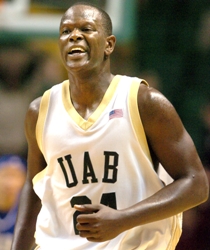 I'm really not sure what Robert Vaden was doing in Bloomington last weekend since he's a student at UAB (fall break, perhaps?), but the former Hoosier has made his way into the police blotter once again. Marci Creps of The Herald Times has the scoop:
Bloomington Police Officer Ian Lovan was on patrol early Saturday morning. At 1:56 a.m., Lovan saw a man in a red shirt who appeared intoxicated and was pushing people in front of the 300 block of North Walnut Street.

Lovan spoke to the man, later identified as Vaden. According to the police report, Vaden appeared intoxicated. Lovan administered several dexterity tests on Vaden, which he failed.
For those of you keeping score at home, that's arrest No. 2 for Vaden. Usually, when you're a fringe NBA prospect, you try not to give NBA teams reasons to avoid drafting you.
Filed to: Robert Vaden