Robert Vaden arrested for disorderly conduct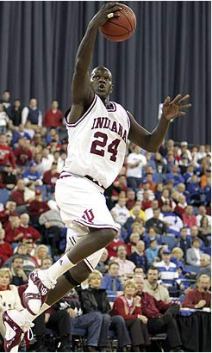 In case you were wondering how Indianapolis Pike product and former Hoosier Robert Vaden is doing these days, the Birmingham News has an update for you:
Five UAB Blazer basketball players were arrested and jailed early Friday morning by Birmingham police.

Edward Berrios, 23; Keenan Ellis, 18; Walter Sharpe, 21; Channing Toney, 21; and Robert Vaden, 22, were all booked into the Birmingham City Jail between 2:45 and 3:30 a.m.

The incident leading to the arrest of the players started inside Club Red, 2015 Highland Avenue, about 1:30 a.m. when some players began arguing and fighting among themselves, said Sgt. Paul Irwin of Birmingham's South Precinct. Off-duty officers working at the club called for backup and several Birmingham police cars were dispatched, he said.

"It was out of hand," Irwin said of the incident.

The arguing and yelling eventually spilled outside the club where the players refused to cooperate with police, Irwin said.

"There were several other basketball players there who were tying to calm their teammates as well," he said.

The players continued to be loud and boisterous, and were even screaming profanities, Irwin said. Finally, police were forced to arrest the players who refused to cooperate and continued yelling at both police and people on the street.

Ellis tried fleeing but was captured by police. An officer was injured during the chase, Irwin said.
So yeah, things seem to be going well down at UAB for Vaden and Coach Mike Davis.  I'm not one to sit here and rip away at college kids, but there's really no excuse for something like this. It's just flat out unacceptable. It'll be interesting to see how things turn out over the next two seasons for Vaden and how this arrest will effect him on the court, if at all.
Also, will Davis get control of his players before the season starts? If not, it could be a long year for Blazer nation.
Filed to: Mike Davis, Robert Vaden, UAB