Scouting Report: Bobby Capobianco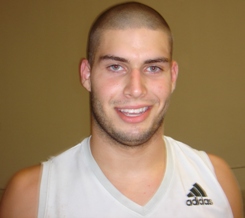 Inside the Hall got our first extended look at Loveland, Ohio forward Bobby Capobianco this past weekend at the Kentucky Hoop Fest and in our scouting report, we'll break down the strengths and weaknesses of his game and project where he'll fit in once he arrives in Bloomington.
Strengths: Capobianco is a physical presence to be reckoned with and while he wasn't one of the primary options last weekend on the offensive end for Indiana Elite One, he showed a soft touch close to the basket when given an opportunity. His stroke from the free throw line also looked polished for a big man. If he can continue to develop his physical strength, he should have no problem finishing plays underneath the basket in the Big Ten. His attitude on the floor is tremendous and you can tell his teammates enjoy being around him. His willingness to patrol the paint and do the little things that add up to winning will be a hit with Hoosier fans.
Weaknesses: When Capobianco spoke to Inside the Hall shortly after his commitment, he talked about speed and agility as two areas that he'll need to improve upon. He was able to get up and down the floor well, but will need to improve his foot speed if he hopes to step away from the basket on defense. He didn't show much of a perimeter game this past weekend, but perhaps that was a result of his role on the Indiana Elite team. As with most big men, he'll need to improve his ball handling.
The Bottom Line: Capobianco is a blue collar player that will be embraced by the Assembly Hall faithful. You can tell he enjoys playing the game and doing the little things that it takes to win. He probably won't come in and contribute double-doubles right away, but if he continues to work on his strength and conditioning, he'll see the floor sooner rather than later. He's another solid pickup by the Indiana coaching staff.
Filed to: Bobby Capobianco