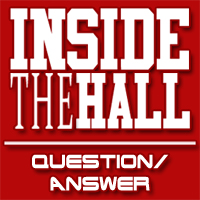 Loveland (OH) forward Bobby Capobianco joined Derek Elston as the second member of IU's 2009 recruiting class on Wednesday night. Inside the Hall caught up with IU's newest commitment for a Q & A.
Inside the Hall: When did you decide you wanted to play for Indiana?
Bobby Capobianco: I decided last night. I called Coach Crean, we had a long talk and he told me he wanted me to come play for Indiana. I wanted to, so I took it.
ITH: Is Indiana a school you have followed?

Capobianco: I've followed them not anywhere close to religiously. I grew up in North Carolina, so Duke and North Carolina was kind of my thing for a while growing up. I'd always been a big Indiana fan and had loved the university. With my AAU team being based out of Bloomington, I had been over there a lot. I've played in Assembly Hall a bunch of times and so, I feet like I had a pretty good grasp on the university. Being that I had a really good relationship with Coach Crean at Marquette, it just felt right when he came to IU.
ITH: Coach Crean has only been at Indiana for two weeks. Did the interest just trickle over when he left Marquette for Indiana?

Capobianco: Yeah, he had been recruiting me at Marquette for about a year. When he came to IU, it carried over.
ITH: What do you like most about Bloomington and what was it like playing in Assembly Hall?
Capobianco: That was a crazy experience. It was somewhere you'd seen on TV and it's always been a historic gym so it was cool the first time I got to play there. I love the whole town of Bloomington. It's cool.
ITH: How would you describe your game to someone that's never seen you play?
Capobianco: I'm a power forward. I love to rebound the ball. Offensively, I feel like I can do a whole lot of different things. I'm a good post player. I like to play with my back to the basket, but I'm really good off the wing. I have a pull up jumpshot that I can rely on and a very good three-point shot. I can do a lot of stuff right around the basket to finish in traffic. I would say I'm bringing a lot of versatility.
ITH: What about the defensive end, is that something you take a lot of pride in?
Capobianco: Yeah, definitely. Coach Crean has told me that I'm the kind of guy that can guard someone that's bigger than me. I can guard one of the more physical guys. What that allows me to do is, on the offensive side of the floor, it creates a mismatch if I'm going to guard someone bigger than me. Defense is a staple of my game and it's something that I take pride in for sure.
ITH: You're playing with Indiana Elite this spring. What are you planning to work on?
Capobianco: For me right now, I've still got to work on a whole lot of things. Ball handling, speed, agility. All of those things that are going to help me be prepared for college. I may not be in Bloomington yet wearing the jersey yet, but I'm representing a school now. I've got to go out and prove that I deserve the spot that I have.
Filed to: Bobby Capobianco