Jamarcus Ellis to Northern Kentucky University?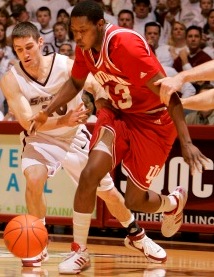 Our old friend Jamarcus Ellis, who somehow got me to believe he was "happy to be a Hoosier" last summer, is reportedly considering a transfer to Northern Kentucky University. Here's the scoop, according to The Cincinnati Enquirer:
It's been an offseason of recruiting that has produced a lot of what-might-have-beens for Northern Kentucky University men's basketball coach Dave Bezold, but he may be on the cusp of a major coup.

Multiple sources say former Indiana University forward Jamarcus Ellis, who was selected honorable mention All-Big Ten this past season, is strongly considering transferring to NKU. According to the sources he visited NKU a few weeks ago and came away impressed, especially with the new Bank of Kentucky Center.
So in a little more than a year Ellis has gone from the Junior College Player of the Year to a guy who will be lucky to suit up at a Division II school. Probably not what he had in mind when he arrived in Bloomington, but when you combine an attitude that was poisonous to the team environment down the stretch with shaky academics, what do you expect?
{HT: Basketblog}
Filed to: Jamarcus Ellis