NCAA reduces T-shirt gift to secondary violation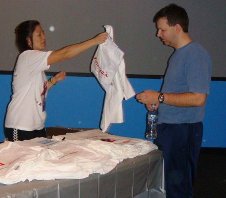 According to various reports, most notably one by The Indianapolis Star, IU has received a case summary from the NCAA enforcement staff detailing the proceedings of their June hearing in Seattle. And in the case summary, there is actually a piece of good news.
Remember that T-shirt that former assistant coach Jeff Meyer gave Derek Elston? The charge has been reduced from a major violation to a secondary violation:
The NCAA defines secondary violations as isolated or inadvertent, and not giving a team a significant competitive advantage.

The charge involved an impermissible recruiting contact with Derek Elston of Tipton, Ind., during a basketball camp last summer. Former IU assistant coach Jeff Meyer was alleged to have given Elston's coach a backpack and T-shirt.

Meyer concedes an impermissible meeting occurred but said the timing was a technical and unintentional violation. Regarding the backpack and T-shirt, Meyer said he is a longtime friend of the coach's family and often gave them gifts from various stops in his coaching career.
This is a first here at Inside the Hall. Good news and NCAA allegations in the same post. It's almost worth getting excited over until you remember there are four other violations that include the words "Kelvin Sampson," "lying," and "major."
Filed to: Derek Elston, Jeff Meyer, NCAA allegations