Crawford expected to return for sophomore season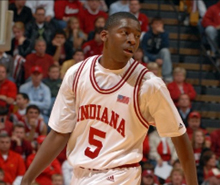 One of the more promising developments out of Tom Crean's trip to the Louisville/Southern Indiana area today — Jordan Crawford is expected to return to Bloomington for his sophomore season.
Rick Bozich of The Louisville Courier-Journal and Chris Korman of the H-T/Hoosier Scoop were both on the scene:
From Bozich:

Crean on how good next season's team will be considering only one recruited scholarship player — Jordan Crawford — is on the roster: "We'll be so young, it's hard to gauge what kind of team we will be for awhile."

From Korman:

Crean said that there is no change in Jordan Crawford's status. Crawford, who will be the only returning player who came to IU on scholarship, is back in Detroit right now and will not attend summer school. "He doesn't need to, and I think it's good for him to get home," Crean said. "It's important to remember that those guys have been through a whole lot."
So the plan is for Crawford to return to Bloomington next season as of right now. This is welcome news after the mass exodus this offseason, right? It's looking like the team will be in Bloomington starting on either June 10 or June 11 to begin summer workouts. When Crawford makes it back to Bloomington, I'll be completely sold.
Filed to: Jordan Crawford