Are the Detroit Pistons targeting D.J. White?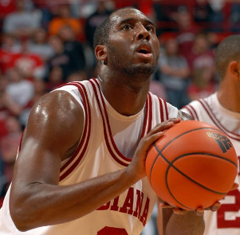 That's the rumor, according to a report on Draft Express. White will skip the NBA pre-draft camp, which could mean he feels comfortable about his draft position with Detroit and sees no reason to participate.
Detroit Bad Boys has a nice recap of all of the White-to-Detroit information, including a nice quote on D.J. from PostmanR:
He finally reached his potential this year — he was a bear and real consistent. Former McDonalds All-American, averaged a double-double, was Big Ten Player of the Year. Skill-wise, he's a good rebounder, he's got kind of a turn around hook that he can work well but I wouldn't go so far as to call him "athletic" — he was a bit of klutz at times. He's a high character guy, had to wade through all the bullshit with the coaching changes and what not. I mean, in the late first round, it's not easy to get an impact guy but you're getting a consistent hard-worker who can play in a system.
Couldn't have said it better myself, R. As far as D.J. going to Detroit, I think he'd fit in nicely in their system as a guy who can come in and give you 10-15 solid minutes off the bench. If he can continue to knock down his jump shot, an area in which he's made great strides, he'll definitely stick around the league beyond his rookie contract.
Update: Chad Ford of the World Wide Leader is calling this report false after speaking with Pistons President Joe Dumars, but would you really expect Dumars to come out and say, "Yes, we want D.J."?
Filed to: D.J. White, Detroit Pistons, PostmanR is my hero