Hello, I would like to recruit your eighth grader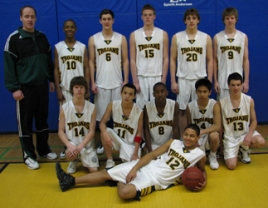 Those of you with eighth graders, relax…I'm only kidding. Most of you know by now that Kentucky coach Billy Gillispie took a commitment last week from Michael Avery, an eighth grader from Thousand Oaks, California. And the reaction from around the country has sparked much needed conversation on how out of control this whole recruiting thing has become.
As PostmanE pointed out over at the Dagger on Y!, most eighth graders are worried about video games, not where they're going to be attending college. Avery chose Kentucky before he picked where he'd be attending high school.
Nothing against this kid (I'm sure he likes Miley Cyrus and Playstation 3 like most other kids his age), but I just don't see how he's ready to make this decision at this point in his life. Why his parents even allowed him to declare this early is even more puzzling. My guess is they don't have a fully funded 529.
From the school's standpoint, how can a staff project the type of player a kid will be four years down the road? Some kids mature early and stop growing. Remember the kid in junior high gym class that had a mustache, posted you up and abused you down low? He was probably the same height at high school graduation.
This post isn't meant as an attack on Gillispie specifically. He's not the first coach to take a commitment from a kid this young and he definitely won't be the last. But you can bet as this becomes more prevalent, it's only going to turn up the heat on the NCAA to take action. The National Association of Basketball Coaches is already starting the dialogue:
"It greatly concerns me," said NABC executive director Jim Haney. "To me, it sends the wrong message. … I don't think it completely aligns with the perception that college athletics reflect in a time of increased academic standards. Maybe it's something we, as an association, need to take up and say something like, 'Our association has agreed that we're not going to accept (commitments) prior to the summer between a player's sophomore and junior year.' It just gives fuel to that whole perception that coaches are out of control … that coaches are trying to sign kids when they're born or all they can think about is recruiting."
Not only is Haney concerned, he's even throwing out specific ideas on a solution to this problem. And personally, I think he's right on the money. Let kids get a couple of years under their belt in high school and then let the offers start rolling in. The schools would have a chance to evaluate potential recruits for an extra couple of seasons and the kids get a few more years to develop their games. Sounds like a win-win to me.
So, what say you, ITH'ers? Do you have a problem with kids being recruited as eighth graders? What would your reaction be if Indiana took a commitment from a player that young? Should the NCAA intervene and establish a rule? Thoughts in the comments, por favor.
Filed to: