Eli Holman will not return to IU next season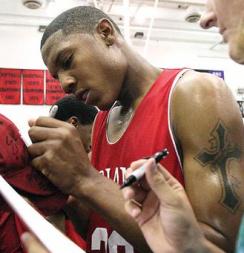 According to a report by the basketblog, an afternoon meeting between Eli Holman and Tom Crean turned ugly. The Hoosier Scoop reported that Holman broke a flower pot near the basketball offices. IU police were called and Holman will likely no longer be a part of the program.
IU Media Relations Director J.D. Campbell released the following statement from Crean just a short time ago:
TOM CREAN STATEMENT ON ELI HOLMAN

We met with Eli Holman this afternoon. He had a good meeting with our assistant coaches earlier in the day. I felt like he still was not sure whether or not he wanted to be here which surprised me because everything we have seen from him had been very positive in terms of staying at Indiana and moving forward. I have no idea what made him change his mind and arrive at this point. He indicated that he would like to leave Indiana, although I was hopeful that we could work through this situation to come to an arrangement we both were comfortable with and to take some time to make a decision.

The conversation was very cordial but unfortunately, it did not end that way. His behavior took me, along with the other people in the office, by surprise. We saw him as a danger to himself and wanted to take precautionary measures to help him. We felt bad for Eli and hopefully were able to help him.

I do not anticipate Eli being back at Indiana. We will do our best to help him move forward and wish him well.
Add this to the list of bizarre events that have transpired over the past seven months in Bloomington. Holman had the potential to be a very good player at Indiana, but that looks to be totally out of the picture at this point. Best of luck to Eli and let's be thankful that nothing more serious transpired in this situation.
Elsewhere:
Filed to: Eli Holman, Tom Crean