Williams sticks with Crean, signs with Indiana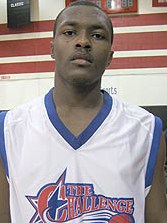 According to our friend Chris Korman of the Herald Times/Hoosier Scoop, Mobile (AL) guard Nick Williams has signed with Indiana. IU is also confirming the signing in a press release:
Bloomington, Indiana – Indiana University men's basketball coach Tom Crean has announced that Nick Williams, a 6-5, 205-lb. combo guard from LeFlore High School in Mobile, Alabama has signed a Big Ten Tender of Athletic Financial Aid to attend IU and play basketball for the Hoosiers beginning next fall. He was named Alabama High School Player of the Year earlier this spring.

"Nick really addresses a need for us and gives us a big, strong presence in the backcourt," said Crean. "He is a winner who is tough and physical and he boasts a work ethic that has helped him improve his game in a variety of ways each year. He has done a wonderful job at making the transition as a perimeter player after beginning his career as an inside performer. He comes from an outstanding high school program and has been well coached throughout his career."

Williams chose Indiana over Arkansas, Kansas State, Wake Forest, Georgia Tech and Alabama. He had originally signed a national letter of intent with Marquette earlier this fall, but was let out of his commitment when Coach Crean took over the IU program.
"Bennie Seltzer deserves a lot of credit for the being the one who recognized that Nick was a player who would be a great fit for our system," said Crean. "I think Bennie's efforts and his relationship with everyone involved proved instrumental in Nick becoming a member of the Hoosier basketball family," Crean added.

Williams, who played for Coach Otis Hughley at LeFlore, averaged 21 points in earning All-State honors as a senior as he led his squad to a 30-3 record, a #32 national ranking and a berth in the Class 6A state semifinals where his team lost to Hillcrest, the alma mater of IU All-American D.J. White.

As a junior, he helped lead LeFlore to a 32-3 overall record and a state championship. He averaged 17.0 points and 8.0 rebounds per game as a junior and is ranked No. 34 at his position and No. 145 overall by Rivals.com in his recruiting class. He was ranked No. 32 among 2008 shooting guards by Scout.com. He also was tabbed No. 35 on the ESPN 150 and is the ninth-rated shooting guard on ESPN.com.

He was a member of the Alabama Challenge AAU team, Williams participated in the LeBron James Skills Academy last summer and was invited to the NBA Top-100 Camp at the University of Virginia.
At this stage in the game, this is an excellent pick up for Indiana. Williams is a powerful guard that should be able to step in and contribute right away. This is the third recruit Crean has added in the past week, which is an encouraging sign given the turmoil that surrounded the program just a little over three weeks ago.
Previously on ITH:
Filed to: Nick Williams