Friday roundup: Crean radio recap, Verdell Jones visit, Derek Elston and Tom Pritchard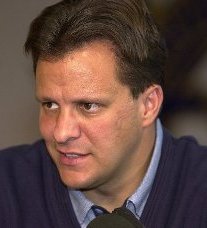 — Tom Crean was on the 'Front Row Ticket' on 93.9 FM on Thursday afternoon and here is a quick recap of what he had to say:
Crean has spoken with several former Indiana players including Dane Fife, Quinn Buckner, Ted Kitchell and Scott May. He plans to talk to Kent Benson in the near future.
Crean is normally not the type to attend a lot of meetings, but most of his first week in Bloomington has been spent in various meetings. He reiterated that there is a lot of work to do academically and although the team had a 3.0+ GPA the first semester, things have slipped dramatically this semester. Crean isn't exactly sure why the grades have fallen so quickly.
Still no definitive word on Armon Bassett or Jamarcus Ellis. One interesting observation is that he mentioned Bassett by name but did not mention Ellis. Not sure if I'm reading into that too much, but we'll see how it plays out in the coming weeks. Crean did say he knows Armon pretty well having recruiting him while at Marquette.
Crean won't be able to attend Little 500 due to prior commitments in Milwaukee involving his kids.
As far as his staff goes, Crean is looking for guys that knows the type of players he wants to bring into the program since he cannot go off campus until August due to recruiting restrictions. However, IU will be looking to add to the 2008 class this spring. He didn't give a timetable for the announcement of his staff, but early next week is my guess for an announcement on that front.
— Speaking of possible 2008 recruits, two of the names that might have some traction are Champaign (IL) point guard Verdell Jones and Josh Harrellson from Southwestern (IL) Community College. Jones is 6-4, 160 lbs and probably has more upside than former recruit Terrell Holloway. Jones will be in Bloomington this weekend on an unofficial visit. Harrellson, unlike most junior college players, will have three years of eligibility remaining and is one of the better interior players left on the 2008 board. He is 6-9 and 270 lbs and could provide some much needed interior depth.
— Chris Korman of the Herald Times had an update late Thursday from Assembly Hall and says that Jordan Crawford, Kyle Taber, Brett Finkelmeier and Brandon McGee were all at the Hall working with strength coach Jeff Watkinson.
— Scout.com released an updated version of its top 100 for the class of 2009 and Derek Elston moved up to No. 57. We'll try to get an update on Elston soon and get his take on the new coaching staff at Indiana plus a wrap up on his junior season at Tipton. Stephan Van Treese, another IU target, is No. 36 on the list.
— IU signee Tom Pritchard was named the 2008 player of the year by the Cleveland Plain Dealer. Pritchard ended his senior season with averages of 16 ppg and 10 rpg. He shot 60 percent from the field.
Filed to: Brandon McGee, Derek Elston, Jordan Crawford, Josh Harrellson, Kyle Taber, Tom Crean, Tom Pritchard, Verdell Jones