Goodman: IU offers job to Bennett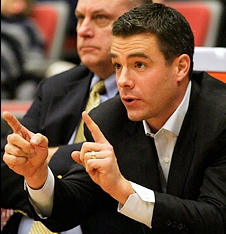 According to Jeff Goodman of Foxsports.com, IU has offered its head coaching position to Washington State head coach Tony Bennett. Here are the details:
Indiana offered its men's basketball coaching job to Tony Bennett one day after his Washington State team was knocked out of the NCAA tournament, a pair of sources told FOXSports.com.

The names that had surfaced were Bennett, Xavier's Sean Miller, Pittsburgh's Jamie Dixon and Vanderbilt's Kevin Stallings. However, the Hoosiers' administration wasted little time in making a play for Bennett — who may also draw interest from other jobs — including LSU and California.
I really don't know what to make of this report. It would seem to me the "blue ribbon" committee would at least want to talk to some of the coaches still remaining in the tournament to gauge interest in the job. Perhaps they've already done that via representatives. Also, Goodman reported that IU had fired Kelvin Sampson about a month ago and that report turned out to be false.
Related:
Reminder: Registration now required to post comments. Click here to sign up for free. You'll get access to avatars, the ability to rate comments and gain clout points based on the rating of your comments by other users.
Filed to: Jeff Goodman, Tony Bennett