Xavier AD says Miller isn't going to Indiana; Crean won't comment on opening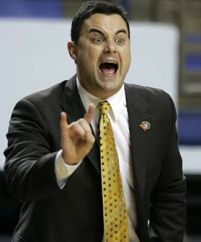 In the constant search for any and all information relating to the coaching opening at IU, I just came across some more information on Xavier coach Sean Miller. According to Rick Bozich's blog on The Louisville Courier-Journal, Sean Miller told Xavier AD Mike Bobinski that he won't be going to Bloomington:
Just talked to Xavier athletic director Mike Bobinski. Asked him if he was worried that he might lose his basketball coach, Sean Miller, to Indiana after Xavier's marvelous NCAA Tournament run finally ends.

"No," Bobinski said.

Miller and Indiana have been mentioned as a possibile marriage. But Bobinski said it's not going to happen. Why?

"Because he (Miller) told me so," Bobinski said.
Also, Marquette coach Tom Crean didn't jump at the chance to comment on the IU opening, according to Bozich:
I also asked Marquette coach Tom Crean about the Indiana opening Thursday night before Western Kentucky's game against UCLA. I've know Crean for 15 years, but it's fair to say he was not a big fan of my question.

This is what Crean said: "I've got no idea (who the next coach at Indiana will be). It's out of my area of jurisdiction."
I've got to be honest: I was really enamored with the possibility of getting Miller to Bloomington, but things aren't looking good here. As far as Crean is concerned, I'm really indifferent. If we had to settle for him after exhausting several options, I would embrace his hiring and live with it. But he's definitely not in my top five.
Reminder: Registration now required to post comments. Click here to sign up for free. You'll get access to avatars, the ability to rate comments and gain clout points based on the rating of your comments by other users.
Filed to: Rick Bozich, Sean Miller, Tom Crean