ITH Super Happy Fun Time Coaching Search: Sean Miller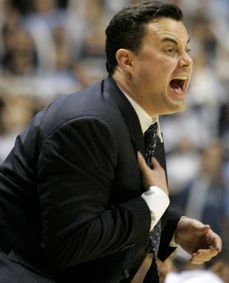 Kelvin is out the door and Dan is not our man, so that can only mean one thing: It's coaching search time! Here's a look at the candidates that could land in Bloomington. We'll give you the pros, the cons and the bottom line. This morning: Xavier's Sean Miller.
Pros: After serving three years as the top assistant to Thad Matta, Miller took control of the reigns at Xavier after Matta bolted for Ohio State and has compiled a 92-38 record in four seasons. The 39-year-old reached the Sweet 16 for the first time as a head coach with Saturday's 85-78 win over Purdue. In his playing days, Miller was a point guard at Pittsburgh. He preaches defense and his club is allowing just 62.7 ppg this season. He seems to be the popular pick for those in the fanbase (alongside Tony Bennett of Washington State) who crave an "up and coming" coach. After all, Bob Knight was just that when he arrived in Bloomington at the age of 31 in 1971.
Cons: With Miller's current deal at Xavier running through 2015-2016, would the university be willing to make the financial commitment to not only buy him out of his deal, but also reward him with a lucrative long term deal? That remains to be seen. You can be sure that the farther Xavier advances through March, the higher the price tag becomes for Miller. And other schools besides IU could come calling for his services. There is also a "buzz" that Miller would be more interested in coaching in the Big East given his playing background at Pittsburgh. He's been described to me on several occasions by various people in the media as a "Big East guy."
Bottom line: If Indiana wants to go young, Miller is right there with Bennett at the top of the list. Bennett might be slightly more attractive because he'd likely come at a lesser price, but if Miller makes it clear to the "blue ribbon" committee that he's interested in IU, he'll be given serious consideration. Most Indiana fans would be thrilled to have Miller at the helm and rightfully so: he can flat out coach.
This afternoon, PostmanE will break down Bruce Pearl of Tennessee.
Reminder: Registration now required to post comments. Click here to sign up for free. You'll get access to avatars, the ability to rate comments and gain clout points based on the rating of your comments by other users.
Filed to: Sean Miller, Thad Matta