ITH Super Happy Fun Time Coaching Search: Bruce Pearl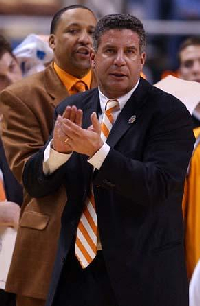 Kelvin is out the door and Dan is not our man, so that can only mean one thing: It's coaching search time! Here's a look at the candidates that could land in Bloomington. We'll give you the pros, the cons and the bottom line. This afternoon: Tennessee's Bruce Pearl.
Pros: Bruce Pearl wins, profusely and almost as a habit. In his first nine seasons at Southern Indiana, Pearl never had a season in which he won fewer than 22 games; in 16 years as a head coach, Pearl has won fewer than 20 games only once, in his first season at UW-Milwaukee. He's won high — at Tennessee — and he's won low — at Southern Indiana — and he's blazed a trail of his recognizability and personality at each stop. Pearl can also recruit, largely because he fosters an atmosphere of fun and freedom and runs a fast break system that appeals to young players. In this way, one could argue he's basketball's Pete Carroll — both are uniquely predisposed to understanding modern players and willing to bend to fit those needs. He's become a star in Rocky Top despite it a). being deep SEC football country and b). playing on a court named after the monolithic women's head coach. He's a winner. His nickname is "Brucers." Also: Illinois fans hate him, and as a rule, I like everything Illinois fans hate.
Cons: First, let's clear up what is and is not a con: Headbands are not a con. If you're concerned that Pearl would destroy everything you love about IU basketball because he lets his players wear their personal style on the court, we've got worse issues in Indiana than not having a basketball coach.
That aside, there are concerns, most of which revolve around Pearl's salary. Pearl currently averages $1.3 million a year in base salary plus compensation, a figure one would hope IU could top but which isn't a given in any athletic department, especially one without Tennessee's football money to throw around. Other cons include Pearl's style; where one might see a funny guy full of personality, others might see an overbearing, spotlight-chasing boor. We've also heard the impression that some see Pearl as "sleazy," perhaps because he's been photographed with young girls, or perhaps because he was regarded for so many years as a snitch.
Bottom line: Pearl is the big splash. If IU wants to make a screamer headline of a hire and simultaneously re-install a positive cult of personality at the university, Pearl is the go-to guy. He's not all style, either; his record is that of a proven winner, and after his exile from bigtime college coaching to Evansville for nine years he's rocketed back to the top of his profession. That's not a coincidence. If hired, there's no doubt Pearl would bring plenty of wins — and plenty of entertainment — back to the state of Indiana.
Tomorrow morning, PostmanR will break down Scott Skiles.
Reminder: Registration now required to post comments. Click here to sign up for free. You'll get access to avatars, the ability to rate comments and gain clout points based on the rating of your comments by other users.
Filed to: Bruce Pearl