Two potential coaching targets in action today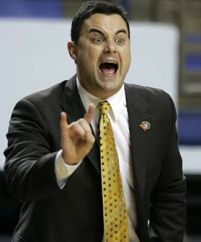 Two names that figure to be right at the top of the wish list for the "blue ribbon" search committee as well as Indiana fans will be in action this afternoon in the NCAA Tournament.
Sean Miller will lead the Xavier Musketeers against IU's biggest rival Purdue in the East Region. Meanwhile, in the West Region, Tony Bennett's Washington State Cougars will meet Notre Dame.
Xavier and Purdue should be a grind-it-out style game, eerily similar to what Hoosier fans are used to seeing in the Big Ten. As many of you witnessed earlier this season, Miller's team prides itself on playing defense and doing the little things it takes to win. "I don't think you can advance in tournament play unless you have a strong identity on defense," he said.
Bennett's Washington State team will get the challenge of slowing down Mike Brey's Fighting Irish and Big East Player of the Year Luke Harangody. Notre Dame is averaging over 80 ppg on the season and Washington State is limiting opponents to 41 percent shooting, so something will have to give.
We'll dig deeper into the coaching search over the next week, but my question for you ITH'ers is this: Where are Miller and Bennett on your wish list? Would you be happy if IU could land one of them or is there someone else out there you feel is a better fit? As always, thoughts are welcome in the comments.
Site news: Registration now required to post comments. Click here for details.
Filed to: Sean Miller, Tony Bennett