The nightmare is over: Hoosiers bow out in 1st round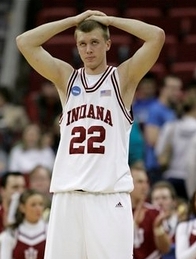 A season that started with promise and aspirations of a run to San Antonio ended Friday night as Indiana fell to Arkansas 86-72 in the first round of the East Regional in Raleigh, North Carolina.
The Hoosiers (25-8) started the season 17-1, but went just 3-4 in their final seven games including three straight losses.
D.J. White scored 22 points and grabbed nine rebounds in his final game for Indiana and Armon Bassett added 21 points and seven assists. The duo, however, got little help from their teammates.
Eric Gordon continued his late season slide with just eight points on 3 of 15 shooting. The freshman hit just 2 of 6 free throws, committed four turnovers and was visibly frustrated throughout.
"Eric has struggled a little bit with his shot and they did a good job staying square with him," Indiana interim coach Dan Dakich said. "He's a kid who put Indiana back relevant. He had a great year."
Indiana led 19-18 with 10:14 remaining in the first half, but the Razorbacks (23-11) closed the first half on a 19-11 run and led 37-30 at intermission.
The Hoosiers rallied in the second half and pulled to within two at 49-47 on a Lance Stemler three-pointer with 12:31 remaining. Arkansas responded with a 12-3 run and Indiana never got closer than six the rest of the way.
"We missed a few shots and let them get a few loose balls," Stemler said. "It just seemed like we were so close and just couldn't get over the hump."
Sonny Weems scored a career-high 31 points for Arkansas, which shot 54 percent from the field and hit 26 of 33 free throws.
The NCAA Tournament win was the first for the school since 1999 when they defeated Siena. Darian Townes added 17 points and 12 rebounds for the winners.
The loss was the first in the NCAA first round since 2001 for IU and dropped Dan Dakich to 3-4 as the interim head coach.
Related:
(Photo credit: Associated Press)
Filed to: Arkansas Razorbacks, Armon Bassett, D.J. White, Eric Gordon, Lance Stemler, NCAA Tournament