Did that just happen? Yes, it did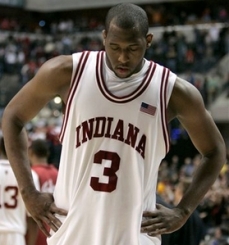 First, the good things about tonight (or last night depending on when you read this.)
— Purdue lost. Some of their fans were sitting directly in front of us. I got to watch them leave Conseco Fieldhouse extremely pissed off. The night seemed to be off to a brilliant start. Admittedly, I was torn on whether to cheer for Purdue or Illinois. The latter got the nod.
— Since I was at the game, I was spared the Shon Morris experience. My condolences, Big Ten Network viewers.
— D.J. White was his usual beastly self. 23 points and 13 points. This kid deserves better. He consistently plays the game that way it should be played. Of all the players on this team, I hate what has happened to this team the most for D.J.
Now, onto the disaster that was Indiana vs. Minnesota. I'm going to try a different style with this recap, so if you're looking for a more detailed account of what transpired, direct your attention here.
— The start to the game was all too familiar. Indiana plays inferior team. Indiana lets inferior team get confidence by letting inferior team take the lead. Inferior team thinks it can play with Indiana and does so the rest of the way. Let's just be honest with each other. Minnesota had no business being up 24-8. Ultimately, this had little to no bearing on the final outcome, but it's worth mentioning just because of how annoying it is to all of us. Another thing that was troublesome was how long it took Dan Dakich to call for a timeout while this early beat down was taking place. I'm sure Dakich is a nice lad and a decent coach in the right situation, but his brief stint at the helm in Bloomington has clearly been a disaster.
— Jamarcus Ellis. Do you want to play basketball? Your body language says no. And your final stat line says the same thing. In 16 minutes, you managed zero points, four rebounds, one assist and one turnover. Dreadful.
— Eric Gordon had another not so good shooting night. Gordon's talent is undeniable, but he's just not getting it done from outside. He was 0 for 6 from three and IU was 1 of 14. Gordon also coughed it up five times. Not a terrible game, but definitely not up to par with what we had come to expect from his early season performances. Unfortunately, this is becoming the norm lately for Gordon.
— Free throw shooting. Minnesota was 15 of 16. IU was 25 of 37. Need I say more?
— The final play. I'm still not sure how Blake Hoffarber caught the pass to make the shot, but he did. The first thought that crossed my mind after I saw the shot go in was the Christian Laettner play in 1992. Only this one didn't have Final Four implications. Nonetheless, it still hurts. Really bad. Credit goes to Minnesota for executing an improbable play. As far as our Hoosiers go, you can't let someone catch a 75-foot pass, turn and hit a shot. It was amazing how clean of a look Hoffarber was able to come away with. And it's just not acceptable to even put Hoffarber in position to make that shot. You have to either knock the ball down or get a hand in his face. Neither happened and well, you know the rest of the story.
I'm sure E will chime in with more detail on the game, but that's all I've got for tonight. Let's hope for the sake of everyone's sanity that it won't get any worse than this.
Related:
(Photo credit: Getty images)
Filed to: Big Ten Tournament, Minnesota Golden Gophers, Purdue Boilermakers