Pritchard focused on state championship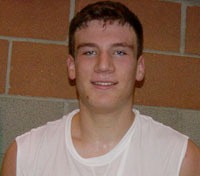 Tom Pritchard, one of the four Hoosier signees for the 2008 class, is staying mum on his future in Bloomington. The 6-8, 240-pound Pritchard has become the center of attention for St. Edwards (OH) since the Eagles lost Michigan State signee Delvon Roe early in the season.
The Cleveland Plain Dealer spoke with Pritchard recently and asked for his take on the changes at Indiana and how they might affect his future:
"I'm not focused on that at all. I'm focused on [St. Edward] trying to win a state championship and on finishing my senior year."
While he didn't jump at the chance to come out and say he'll follow through with his plans to come to Indiana, the sentiment seems to be that Pritchard will fall in line with Matt Roth and pick the school over the coach. He's averaging 15.9 points per game on 55 percent shooting to go along with 10 rebounds per game. He might have a year of adjustment before he can become a contributor in the Big Ten, but much like Roth, he'll be a solid four year player that fans will grow to love.
Thanks to ITH reader Ricky for the tip.
Filed to: Tom Pritchard