Eric Gordon: Perception vs. reality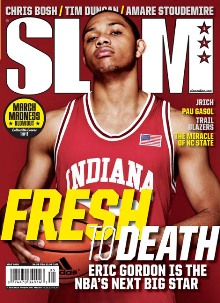 There seems to exist two schools of thought on Eric Gordon. The first comes from the national pundits and talking heads: Eric Gordon is an excellent combo guard, one with unlimited range, a sure lottery pick. (He is, after all, the NBA's next big star.)
But there's the other school of thought, held most closely by IU fans that have watched Gordon the past few months. It takes all the good stuff into account but splashes in the fact that he's a turnover machine, a poor ball handler who is erratic and oftentimes out of control when he drives to the hoop. Add that to the fact he's in an horrific shooting slump — Gordon's currently a woeful 10 of his last 50 (!!!) from behind the three-point line) and you can't help but think there's more than a few flaws in Gordon's game, ones people that are only getting a cursory view of Gordon are missing. (However, a shooting slump is just that: a slump. If there's one thing I'm confident in about Gordon's game, it's his long-range jumper. That and his ability to get to the free throw line.)
I also always thought Gordon was head and shoulder's above USC's O.J. Mayo. Mayo has to jack up a million shots to get his points. Gordon could shoot eight shots a game and still go 20+ because he gets to the line so much. But after reading David Berri's win score/eFG analysis of EJ and Mayo, turns out they're not really all that different.
When we look at Gordon across these games, we do see that his woeful shooting on Sunday was an anomaly. Gordon's adjusted field goal percentage is 54.2%, which is quite good.
Let me put Gordon's shooting in perspective. The other top shooting guard who is expected to be available in the NBA draft is O.J. Mayo of USC. Mayo's adjusted field goal percentage is 53.0%, and again, that's quite good. Despite this performance, though, here is how Chad Ford describes Mayo at ESPN.com.

It's clear Mayo's going to be a great NBA scorer … but will he give a team anything else?
When we compare Gordon and Mayo we see that the latter produces more – on a per-minute basis – rebounds, assists, and steals. Mayo also commits fewer turnovers. In sum, if we are concerned that Mayo isn't going to give anything beyond scoring, shouldn't we have the same concern about Gordon? And yet, in the mock drafts I have seen, Gordon is consistently rated as the better prospect (and Ford describes Gordon as a "do-it-all combo guard that is already lighting up the box score")
And later, when comparing Gordon and Mayo to NBA players:
When we turn to Win Score – a metric that can tell us something about lighting up a box score — we see little reason to be optimistic about Gordon or Mayo. Entering Sunday's action, Gordon had posted a 6.7 Win Score per 40 minutes (WS40) played. Mayo has a mark of 6.0. When we look at all shooting guards drafted out of college between 1991 and 2006 (and who played at least some significant minutes in the NBA), we see an average WS40 of 8.7 the last year the player played college basketball. In other words, Gordon and Mayo are far below average.

To put "far below average" in perspective, here are the shooting guards with a WS40 below 7.0 (again from 1991 to 2006): Kareem Rush, Kirk Snyder, Toby Bailey, Tony Dumas, Lawrence Moten, Courtney Alexander, Ed Gray, DeJuan Wheat, Chris Smith, Jimmy King, Felipe Lopez, Larry Hughes, and Jamal Crawford.
Now, this is but one metric, but I think it's an effective tool in solidifying some of our gripes and qualms about the guy. Is Gordon the best freshman in the Big Ten? Yes. Is he the best freshman in the country? Debatable. (I'd go with Michael Beasley.) Is he going to be a lottery pick? Most likely. Could he stand another year at IU, one in which a new coach will reign him in (something Sampson, and now Dakich, refuse to do), thus cutting down his turnovers and making him an overall more effective basketball player? Absolutely.
But he'll go pro. And I don't blame him in the least. He's immensely talented and he should go get his money while he can. I just very badly want him to succeed at the next level. After watching him play this Big Ten season and looking at his Win Score comparisons, I'm worried he won't. (Not to mention, undersized shooting guards aren't really the norm in the NBA.)
Am I crazy here? Does this seems like a sound base of logic to anyone else? Get it poppin' in the comments, friends.
Filed to: Eric Gordon