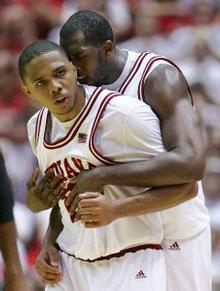 The Big Ten announced the All-Conference teams on Monday evening and as expected, both the media and coaches have selected D.J. White as the Player of the Year.
"It is a tremendous honor to be named the best player in a league that has so many great players in it. I want to thank my teammates, coaches and family for helping me obtain this personal goal. We still have a number of team goals left and we are looking forward to the Big Ten Tournament this weekend," White said in a statement released by IU Media Relations.
Joining White on the first team All-Big Ten for the media: Eric Gordon, Jamar Butler, Robbie Hummel and Brian Butch. On the coaches side of things, the first team was White, Gordon, Hummel, Butch and Drew Neitzel.
Gordon was also named Freshman of the Year by both the media and coaches.
"I really want to thank my coaches and teammates, " Gordon said. "This is an honor to be considered the best freshman in the league, especially when so many freshmen in the Big Ten are having great seasons."
Indiana guard Armon Bassett was a third team selection by the media and coaches and Jamarcus Ellis was named honorable mention by the media. Adam Ahlfeld was the sportsmanship award honoree for the Hoosiers.
Among the other notable awards: Matt Painter was named Coach of the Year by the media and coaches; Jason Bohannon was named Defensive Player of the Year by the coaches; Chris Kramer was named Defensive Player of the Year by the coaches.
For a complete list of the All-Big Ten teams, click here.
Filed to: Adam Ahlfeld, Armon Bassett, D.J. White, Eric Gordon, Jamarcus Ellis