Comcast, Big Ten Network soon to join forces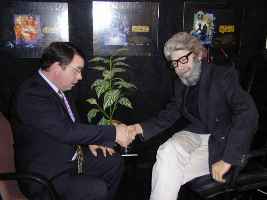 In a partnership that will no doubt lead to decades of Big Ten athletic domination over lesser conference specimens (right), the Big Ten Network and Comcast appear to have reached a deal. According to the Sports Business Journal, Comcast will launch the network on expanded basic throughout most of the Big Ten area, while in some areas, like Philadelphia, the channel will be available on digital basic.
While it looks like Comcast is getting the win — after all, the Big Ten Network's original pitch was that it deserved to be alongside ESPN and Comcast Sports Net as basic programming for everyone — the bottom line is that IU fans will be able to see games they've missed this year. That's no doubt a good thing, even if you're stuck paying for 12 or 14 extra channels you'll never use once.
Those of you stuck in a Comcast-only market, I'm sure you're eager to get your greasy paws on the BTN. Little do you know that all you'll really be getting, besides the games, is a mess of boring production, blue graphics, Shon Morris, Dave Revsine, Tim Dolan, Big Ten's Greatest Games (a feature not nearly as interesting as its name) and various women's competitions. So, you know, get hyped.
Filed to: Big Ten Network, Comcast