White and Gordon lead Hoosiers past Gophers, 69-55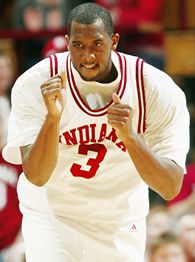 Wednesday's game against Minnesota at Assembly Hall probably wasn't the grand finale that D.J. White expected when he set foot on Bloomington's campus in the summer of 2004. The coach who recruited him, Mike Davis, was nowhere to be found. His fellow recruits, A.J. Ratliff, Josh Smith, Robert Vaden, James Hardy and Lucas Steijn, were also MIA.
White, however, was right in the middle of the action as he led No. 17 Indiana past Minnesota 69-55 in front of a sold out crowd at Assembly Hall.
The game was a lot closer than the final score indicates as the Golden Gophers led 47-46 before the Hoosiers (25-5, 14-3) pulled away late with a 22-9 run.
White said goodbye to the Indiana faithful with 17 points, five rebounds, three steals and two blocks. His three-pointer from just inside mid court gave Indiana a four point lead going into halftime. White, a Tuscaloosa (AL) native, was honored in a pregame ceremony along with fellow seniors Lance Stemler, Mike White and Adam Ahlfeld.
Eric Gordon struggled with his shot once again as the freshman hit just 4 of 11 shots. Gordon once again made his living from the free throw line going 12 of 14. He finished with 20 points.
Jamarcus Ellis bounced back from a poor performance on Sunday and scored 10 points, grabbed 13 rebounds and had four steals. Armon Bassett added 11 points.
Minnesota (18-11, 8-9) stayed in the game behind the strong play of Lawrence McKenzie and Dan Coleman. McKenzie scored 22 points, including four three-pointers, and Coleman had 14 points and eight rebounds. Tubby Smith's club shot just 38 percent from the field and 58 percent from the foul line.
Indiana will wrap up the regular season Sunday afternoon on the road against Penn State. That game will be shown on ESPN at 2 p.m. EST.
Related:
Filed to: D.J. White, Eric Gordon, Jamarcus Ellis, Minnesota Golden Gophers