Katz via source: Sampson's tenure is on game-by-game basis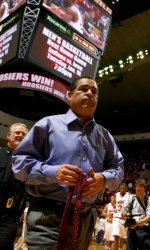 Those of you hoping Kelvin Sampson is cut loose sooner rather than later by IU — and the more I read today, the more I think it makes more sense to do so because the NCAA is likely to come down less hard on us, although I still feel horrible for the players' sake — may soon get your wish. Andy Katz of ESPN.com is reporting a source has indicated to him Sampson is being evaluated game-to-game.
Discussions about whether Sampson would coach Wednesday night's game against Wisconsin went on as late as the afternoon preceding the game, according to a source close to the situation.

A source told ESPN.com that there is an air of uncertainty on the staff regarding Sampson's status and whether he'll finish out the season. Sampson met with his staff Tuesday into the night and again on Wednesday.

Indiana (No. 12 ESPN/USA Today, No. 13 AP) could choose to suspend Sampson from coaching games while it figures out its options without having to fire him. The Hoosiers have home games Saturday against Michigan State and Tuesday against Purdue.

Larry MacIntyre, the assistant vice president for university communications, said IU president Michael McRobbie has met with the school's legal counsel, the board of trustees and athletic director Rick Greenspan.

[ … ]

MacIntyre said there are no plans for a news conference Thursday or Friday, but he said he's "not going on vacation" and is prepared to quickly organize one if needed.
So yes: there's the latest news flying out there on Sampson's status. It should come as no surprise to any of us.
Filed to: Andy Katz, Kelvin Sampson