Is A.J. Ratliff done? Yes, he is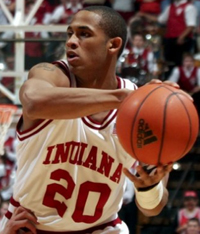 Update: A.J. Ratliff is off the IU team (Herald Times)
Note: Due to Ratliff's departure, some updates have been made (in bold and italics) from the original post I penned last night. Unfortunately, what I forecasted at that time has come true. A.J. Ratliff is no longer a Hoosier.
First, a preface: Prior to the season, if you had asked who my favorite Hoosier was, I would have told you A.J. Ratliff. His success last season led me to believe that he'd be a key piece to a deep NCAA Tournament run this season. I never really paid much attention to those who labeled him as inconsistent because I had faith he'd put it together at some point. In my head, "some point" was going to be this season.
Now I'm just wondering where Ratliff is. Is he attending practice? No. Is he going to play again? No. The last two games he's been MIA. The details of his absence are sketchy at best. All we really know is that he's dealing with a "family issue," according to Indiana coach Kelvin Sampson. And now, according to published reports by the Herald Times, we've learned that he's no longer on the Indiana team.
Oddly enough, he wasn't brought up on the Big Ten teleconference on Monday morning. It's shocking to me that nobody asked for an update on Ratliff. The updates provided after Sunday's game revealed little as Sampson wouldn't elaborate further on Ratliff's status. Is there an unwritten rule to not ask Kelvin Sampson any tough questions or pry for more information? Sometimes I feel like more information comes out of a Bill Belichick press conference.
Color me skeptical, but with each day that goes by without an update on what the deal is with Ratliff, the less likely he is to return. Color me correct, A.J. Ratliff is no longer a Hoosier.
Now that Ratliff's departure is confirmed, what are your thoughts on Ratliff's career at Indiana? Major disappointment? About what you expected? Thoughts in the comments, por favor.
Filed to: A.J. Ratliff