Not appearing in Champaign on Thursday night…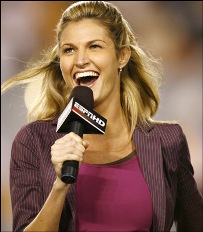 The lovely lady to the right.
Word is the usual trio of Brent Musberger, Steve Lavin and Erin Andrews will be minus the rock star herself when the World Wide Leader rolls into Champaign-Urbana.
Replacing Andrews as the sideline reporter for the Indiana-Illinois game will be ESPN.com senior writer Pat Forde.
No word on why Andrews will miss the game, but I'm sure the Orange Krush will be disappointed not to catch any glimpses of the world's most attractive sideline reporter. Then again, anything that angers the Orange Krush is fine by me.
Filed to: