Gordon Sr: EJ will play against Wisconsin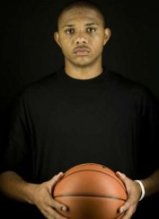 Jeff Rabjohns of the Indianapolis Star has the scoop on Eric Gordon's wrist injury and it seems the message board rumors were blown out of proportion (shocking!):
"He did injure his wrist, but there's no swelling," Eric Gordon Sr. said. "He's going to be able to play. What they'll probably do is put some protective padding on it, and he'll play."
The report goes on to say that Gordon came down on his non-shooting wrist during practice while trying to break his fall.
Everyone is now free to exhale and go on with your day. Because if the rumors were indeed true, I was probably going to cry. And you probably were too.
Let's hope this isn't something that has any lasting effect on Gordon the rest of the way. All eyes will definitely be on his wrist tomorrow night in Madison.
Filed to: Eric Gordon