Gordon and White make Wooden midseason Top 30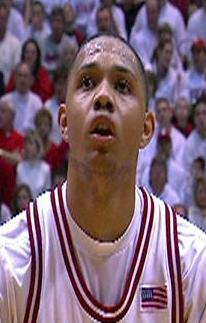 The Wooden Award announced its midseason Top 30 list late Saturday and both D.J. White and Eric Gordon made the cut. Here is an excerpt from the press release:
LOS ANGELES (January 26, 2008) – Midway through the NCAA regular season, and in the throes of conference action, the 30 top candidates for the John R. Wooden Award, the nation's most coveted college basketball award, were named today by The Los Angeles Athletic Club's John R. Wooden Award Committee. Composed of the top 30 players who will compete for this season's player of the year award, the midseason list is based on individual player performance and team records during the first half of the season.

Heading the list are returning Wooden All-Americans Tyler Hansbrough of North Carolina and Brandon Rush of Kansas, whose teams have been ranked in the Top 10 all season. Eleven players have been selected to the midseason Top 30 who were not on the preseason list. This impressive group includes returning players enjoying breakout seasons: Brian Roberts of Dayton, Raymar Morgan of Michigan State, Wayne Ellington of North Carolina, Luke Harangody of Notre Dame and Sam Young of Pittsburgh, and freshmen James Harden of Arizona State, Eric Gordon of Indiana, Michael Beasley of Kansas State, Derrick Rose of Memphis and local stars Kevin Love of UCLA and USC's O.J. Mayo.

Four Top 10 schools have multiple players nominated: North Carolina (Ellington and Hansbrough); Memphis (Chris Douglas-Roberts and Rose); Kansas (Mario Chalmers and Brandon Rush); and Indiana (Gordon and D.J White).
No surprise that both EJ and D.J. made the list, but I am bit surprised that no one from Wisconsin made it, given their start, and also that Drew Neitzel is nowhere to be found. Despite his slow start, you'd think a senior leader from a top 15 team would get the nod, but apparently not.
Filed to: D.J. White, Eric Gordon, Wooden Award