White welcomes challenge from UConn's Thabeet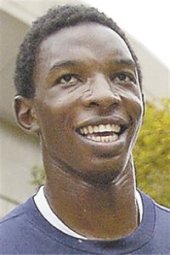 D.J. White will get his toughest challenge of the season tomorrow when the Hoosiers go for their 30th straight win Assembly Hall. That challenge will be in the form of 7-3 Connecticut center Hasheem Thabeet.
Thabeet, a sophomore from Tanzania, considered a jump to the NBA a year ago, but returned to Storrs to polish his game.
And he's done just that.
He's the nation's fourth leading shot blocker at 3.9 per game to go along with 11.1 points and 7.6 rebounds. He's also shooting 72 percent from the foul line, up from 51 percent a year ago.
Despite the strides Thabeet has made, don't expect Indiana's senior captain to back down from the challenge.
"You always play aggressive and never back down," White said. "It's not in my nature to back down from anyone, no matter what the stats say. We are going to look at the game plan and just play like normal."
Indiana coach Kelvin Sampson echoed those sentiments and thinks the experience White had against Thabeet last season will be beneficial.
"D.J. played against him last year," Sampson said. "D.J. has an understanding. You have to be careful about playing at the rim, because he is a much better shot blocker than he was."
Thabeet is coming off perhaps his best game of the season, a 84-83 Huskies win at Cincinnati. He scored 22 points, grabbed nine rebounds and hit 8 of 9 free throws.
"Hasheem had, in my opinion, his finest game and there's a lot more of those to come," Connecticut coach Jim Calhoun said.
The Hoosiers are hoping tomorrow afternoon isn't one of them.
Filed to: D.J. White, Hasheem Thabeet