Whiteout planned for Saturday; Sampson talks UConn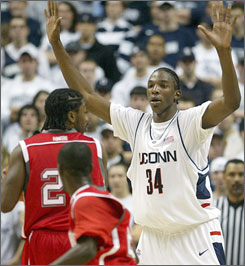 A couple of notes today from IU Media Relations:
BLOOMINGTON, Ind. – On Saturday, Jan. 26, against non-conference foe Connecticut, the Indiana men's basketball team will welcome its second and final "White Out" this season. All fans are encouraged to wear white to the game, which will be televised by CBS at 1 p.m. EST.
Also, Coach Kelvin Sampson addressed the media to talk about the UConn game, A.J. Ratliff and more:
On what to expect from Connecticut:

"Speed, rebounding. Their size, obviously, with (Hasheem) Thabeet inside. They're just a much more mature team than when we played them last year. They've grown up and (A.J.) Price is what Jim (Calhoun) thought he'd be. He's really good. Price, (Jerome) Dyson, those two guards have great quickness. They play in great bursts. Thabeet I think has improved in every area. He's 70-for-100 free throws. I think that is significant. I don't have his stats from last year right in front of me, but I know that is just an example of how he's improved. He's more comfortable. I think he see himself as a great low post player now. Whether he has the ball or not he controls the lane defensively. (Jeff) Adrien is just a tough kid. He's a warrior. And they are playing good now. I think early in the year…we all are what we are early in the year. The win over Marquette and they went in a won a great road game last night where just about everybody struggles is at Cincinnati. They will come in here with a lot of confidence."

On the play of A.J. Ratliff:

"I think with A.J. it is just finding his niche. Missing all the games he did, he's behind when he started. We're not playing games where I have the luxury of giving him 10-20 minutes so he can get his confidence back. These are games that when you get in the conference season or you are playing against a great nonconference opponent like Connecticut, my emphasis is to put in the kids I've got that I think we can win with."
A full transcript is available here.
Filed to: A.J. Ratliff, Connecticut Huskies, Kelvin Sampson, Whiteout