Sampson, White and Bassett react to win over Iowa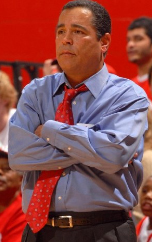 Kelvin Sampson, D.J. White and Armon Bassett met with the media following Indiana's 65-43 win over Iowa on Wednesday night at Assembly Hall. Here's a transcript of the press conference:
Opening Statement – Kelvin Sampson:
We have a lot of respect for Iowa. They've continued to get better. Beating Michigan State, winning at Michigan, losing a tough one to Purdue, so we had a lot of respect for them.
I just think our kids are getting better. Our defense was better tonight, thought our ball movement was better. If you keep working at things and have good kids, you usually improve. This is a good win. Our scouting report and how we defended them was good. We're getting better in that area.
D.J. White – On guarding the perimeter:
We knew that coming in, they set a lot of ball screens. We knew that was going to happen. Both post players were out there hedging trying to stop Freeman from getting into the lane.
D.J. White – On how the team has improved since the first Iowa game:
We were just aware of the ball screens. That was a point of emphasis this week. We watched film of our mistakes that we made when we played Iowa the first time. We just eliminated those mistakes and hedged when we needed to.
Armon Bassett – On the defensive point of attack:
It was a little bit better today. EJ (Eric Gordon) played good on the ball defense. I thought everybody tried to make an effort to whoever was guarding the ball and that's what sparked us in the second half.

Armon Bassett – On how he's feeling physically:
I don't know. I'm going to play.

Kelvin Sampson – On the best start since the 1975-1976 season and what it says about how far the program has come:
I don't know about the program. I've only been here parts of two years, but I just focus on getting this team better in areas we need to get better in. I was talking to Todd (Lickliter) before the game and you take over a new program, the first thing you have to do is establish your culture, how it is you want your team to be. Todd's doing the same thing over at Iowa. The thing that makes this program so special, and I keep saying it because I mean it, is the fans. There's not a lot of places that on a Wednesday night and you look up and there's 16,000 or 17,000 people here every game, every game it's like that. It's a special place because of the fans.
Kelvin Sampson – On what the team needs to work on:
Just get better, that's what we're doing. Defense, decision making, shot selection. There's not an area that we haven't improved in. The way we run our offense now, it's familiarity. When you have a lot of kids who are accustomed to being the go-to-guy, it takes them a while to filter into a role. We play our roles better now than we did earlier. You just have to be patient as teams develop. But I still think this team's going to continue to improve.
Kelvin Sampson – On Lance Stemler's effort:
He played hard. That's all we require of Lance: just play hard. That's all we require of Dre (DeAndre Thomas), I thought Dre played hard tonight.

Kelvin Sampson – On getting Iowa down and keeping them down:
I thought our defense was a lot better. Whatever happens as a by product, is because of our defense and rebounding. I'm just looking at the stat sheet, I didn't realize that we held them to 17 points and 21 percent in the second half. This team has been playing well. I'm just proud of our defensive effort tonight. We've got Thursday and Friday to get ready for our next game.
Filed to: Armon Bassett, D.J. White, Kelvin Sampson