Keys to the game: Iowa Hawkeyes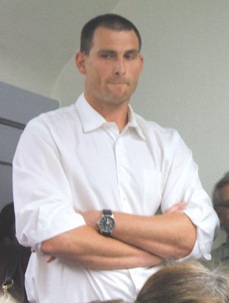 I figured you'd rather not relive Justin Johnson's 19 points in 1:55 in pictures and you're probably tired of looking at Eric Gordon and D.J. White. So I did you a favor and found a nice picture of Rachel Bilson Richard Mandeville. You can thank me later. And one more note, Happy Birthday, PostmanR.

After dropping their first three Big Ten contests, the Iowa Hawkeyes have won two of three and enter Assembly Hall looking for their second straight conference road win. Todd Lickliter's club pulled off the biggest upset to date in the conference on January 12, a 43-36 stunner against Michigan State. After a 67-62 home loss to Purdue, Iowa beat Michigan 68-60 Saturday in Crisler Arena and will meet the Hoosiers tonight at 9 p.m. Without further ado, here are the keys to the game:
— Stop Justin Johnson: In case you forgot, Johnson scored a ridiculous 19 points in the final 1:55 of Indiana's 79-76 win at Carver Hawkeye Arena on January 2. Johnson is a streaky shooter and it's important for the Hoosiers to keep him contained and prevent another outburst. This sounds like an assignment for Mr. Eric Gordon or according to the Indy Star, Jamarcus Ellis.
— Defensive intensity: We've yet to see a convincing defensive effort for 40 minutes from this year's version of the Hoosiers. The problem: Too many mental lapses and missed assignments leading to easy buckets. Is this the game where Kelvin Sampson gets the message to his team that it's time to tighten up the loose ends?
— Feed the post: The more touches for D.J. White, the more the perimeter will open up for the Hoosiers. When the double team comes, D.J. will find the open man on the perimeter. If the Hawkeyes fail to collapse on D.J., it'll be a long night ahead for Cyrus Tate and Seth Gorney.
— Armon's Ankle: The sophomore guard from Terre Haute is coming off a 17-point performance against Penn State where he played the entire second half and moved well despite bone chips in his left foot. Indiana is clearly a more organized team on offense with Bassett leading the attack (no disrespect to the undisciplined one, Jordan Crawford).
— If all else fails, send them to the line: Iowa is the third worst foul shooting team in the conference at 62.9 percent. Cyrus Tate, who leads the Hawkeyes in free throw attempts, is shooting just 54.2 percent. Conversely, the Hoosiers sit at the top of the pile at 74.9 percent.
Your keys to the game and analysis in the comments, por favor.
Filed to: Iowa Hawkeyes