Giving D.J. White his due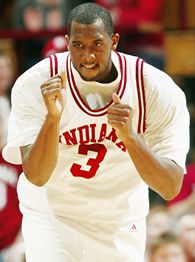 Forgive me, D.J. White.
You see, somewhere in between the Eric Gordon phenomenon and the 16-1 start for the Hoosiers, I lost track of the most important ingredient to this season's success: You.
You didn't listen to the agents who tried to persuade you to enter the NBA Draft last spring. You looked in the mirror and knew there was more for you to accomplish in Bloomington. So you returned in the best shape of your career and embraced the title of team captain from Coach Sampson.
When it came time for the preseason accolades to be handed out, it was Tyler Hansbrough and Roy Hibbert as the two best big men in the land. Two of the best college basketball minds out there, Jay Bilas and Pat Forde, didn't find you worthy of first team accolades. You didn't let that bother you. Instead, you decided you'd let your play do the talking. At this point, that noise is nearly deafening.
You said one of your goals when Coach Sampson came to Indiana was to win consistently on the road. How does 4-0 in true road games sound?
You were always a good rebounder, but you were never a great one. That is, until this year. The ability was there, but this season you're a beast on the boards. Do you realize you're pulling down 12.8 rebounds per game in Big Ten play?
You needed to become a more complete player to get to the next level. So you stayed in the gym all summer and now you've got an automatic 17-footer from anywhere on the court. Not to mention your signature turnaround baby jumper is just plain ridiculous.
And finally, of the utmost importance to you, the Big Ten title. You've led your team to a 5-0 start in the league. You've never been the top dog in the conference race before, have you D.J.? Feels good, doesn't it?
So forgive me No. 3. I promise not to overlook you again.
Filed to: D.J. White