Le Weekend: Louisville and Kentucky aren't good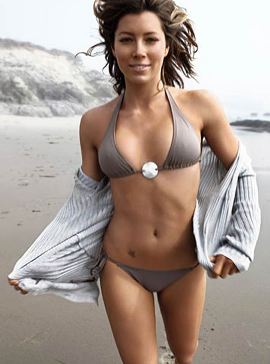 Le Weekend is Inside the Hall's look at what's ahead this weekend in college hoops. It's also a perfect opportunity to post pictures of hot chicks, like Jessica Biel.
– Not a lot going on in Hoosierland this weekend, but there is a game going on down in Lexington, Kentucky that could be interesting for those of you not obsessed with the NFL playoffs. Rick Pitino and the Louisville Cardinals will travel to Rupp Arena to take on Billy Gillispie and the Kentucky Wildcats. Neither team is off to a good start, Louisville is 9-4 and Kentucky is 6-6. Louisville is coming off of a head scratching loss to Cincinnati at home and Kentucky has already dropped games at Rupp to Gardner Webb and San Diego. I've got no clue who will come out on top in this one (is it possible for both teams to lose?), but a loss from Kentucky pretty much seals their fate as a NIT-at-best team and a loss for Louisville will look terrible to the selection committee come March.
– The Big Ten schedule kicks into full gear with the following games:
Saturday: Iowa @ Wisconsin; Michigan @ Purdue; Minnesota @ Michigan State
Sunday: Northwestern @ Ohio State; Penn State @ Illinois
Nothing really great, but it'll be interesting to see how Tubby Smith and the Gophers fare in the Breslin Center. My prediction: not very good.
– One final note: Indiana receiver James Hardy has moved on to the NFL and we'd like to wish him the best of luck. He's got the necessary skill set to have a long and successful career at the next level and we can only hope he ends up on the Bears. Sorry Colts fans.
See you Monday.
Filed to: Billy Gillispie, James Hardy, Kentucky Wildcats, Le Weekend, Louisville Cardinals, Rick Pitino