Dominique Ferguson providing a boost off the bench for Lawrence North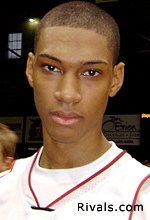 Indianapolis Lawrence North is off to a 7-1 start and a big part of their success is 6'9″ sophomore Dominique Ferguson.
Ferguson is one of the top 10 sophomores in the country according to Scout.com and Inside the Hall caught up with him to get an update on his play this season.
"I'm the sixth man, off the bench, but I'm one of the leading scorers. I really don't care about coming off the bench right now because everybody starting over me are upperclassmen," Ferguson said.
"I've been working on my outside game a lot, but I've been playing on the inside a lot because that's where I score all of my points because everybody's smaller than me. After practice, I work on my jump shot."
The only loss for the Wildcats was at then No. 1 Marion, but Ferguson said his team has bounced back after the 71-63 loss to the Giants.
"We didn't execute things right, but we've come back after that and done pretty well," Ferguson said.
Besides his outside shot, he's also putting an emphasis on becoming a better defender.
"I just need to get low and stay with my man. I'm usually always guarding somebody smaller than me, so I just need to work on keeping up with everybody," he said.
As far as the recruiting process goes, Ferguson has visited Indiana a couple of times this fall and is planning a trip to West Lafayette soon.
"I went to IU, me and Steve (Stephan Van Treese) went to the game when they played Coppin State. I'm going to Purdue next weekend with Jeff Robinson and my coach," he added.
*Note: When Ferguson says next weekend in that last quote, he's actually talking about this weekend when the Boilermakers host Michigan.
Filed to: Dominique Ferguson