Hoosiers hold off Johnson and the Hawkeyes, 79-76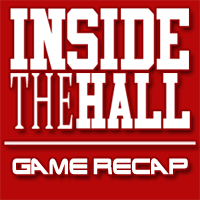 Eric Gordon scored 25 points and No. 11 Indiana (12-1, 1-0 Big Ten) held off Iowa 79-76 Wednesday night at Carver-Hawkeye Arena in Iowa City, Iowa.
The Hoosiers led 71-60 with 1:26 remaining, but Iowa didn't fold. Justin Johnson scored the final 16 points for the Hawkeyes (7-7, 0-1) on five three-pointers and a free throw.
Johnson's last three with four seconds remaining pulled Iowa within two. After Lance Stemler hit one of two free throws to put IU ahead 79-76, D.J. White came up with a loose ball near half court as time expired.
White posted another double-double with 16 points and 15 rebounds and Jamarcus Ellis added 15 points, seven rebounds, seven assists and five steals for Indiana.
Gordon broke out of a two game shooting slump as he hit 7 of 12 from the field and hit 9 of 12 free throws. The Hoosiers shot 49 percent and played without Armon Bassett for most of the game. Bassett started but played only three minutes due to an ankle injury.
A.J. Ratliff saw his first action of the season and scored two points in 15 minutes before fouling out.
Johnson finished with 29 points and Tony Freeman added 12 for Iowa, which shot just 15 of 25 from the foul line.
The Hoosiers will return to action next Tuesday at 7 p.m. ET at Michigan. That game will be televised on ESPN.
More on the game in the AM when PostmanE breaks down all of the action in The Morning After.
Related:
Filed to: D.J. White, Eric Gordon, Iowa Hawkeyes, Jamarcus Ellis, Justin Johnson