Reggie Bullock impressive in holiday tournaments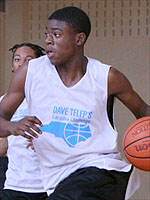 Reggie Bullock, who received an Indiana offer back in September, has been nothing short of outstanding the past two weeks for his Kinston (NC) team. Last week, Kinston participated in the City of Palms Classic in Fort Myers, Florida and they're playing in the Glaxo Smith Kline Holiday Invitational in Raleigh, North Carolina this week.
Bullock has moved to a five-star prospect on Scout.com for the class of 2010 and is getting rave reviews. Here's what a couple of scouts are saying about Bullock and his play over the past two weeks:
Reggie Bullock 6-foot-6 WF (2010) Kinston (N.C.) – This skilled wing talent can really handle the rock, pop jumper off the dribble or finish at the rim. As he matures, look for his stock to rise. High majors should be monitoring his development.
Bullock can shoot or get to the foul line or knock down a midrange jumper. Offensively, he's content with being a set up guy as well as being the primary ball-handler for his team. He's putting the pieces together and developing into a terrific young ball player. Bullock said Ohio State, Wake Forest, Indiana and North Carolina are strong with him early on the process.
It's still very early in the recruitment process for Bullock, but there are a couple of encouraging things to remember: 1. Indiana was the first school to offer a scholarship and 2. He's mentioning the Hoosiers prominently when asked for his list of schools. He's definitely one to keep an eye on in the 2010 class. I hope to have an update on another Indiana target in the 2010 class, Dominique Ferguson of Lawrence North, in the next couple of days.
Filed to: Reggie Bullock