The weekend that was: Robert Vaden edition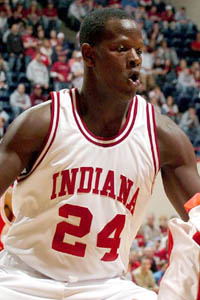 – The Hoosiers played a laugher of a game Saturday night as they whipped Western Carolina, 100-52. Coach Sampson thanked the fans (including me) for braving the elements to watch a blowout. The only important thing we learned from the game is that Eric Gordon is back and ready to go. Gordon looked to be 100 percent and showed no signs of the lower back injury that kept him out of the Kentucky game.
One other thing that impressed me was how unselfish the team was with the ball. There were signs of a structured offense and the Hoosiers had a season low 10 turnovers. And by the way, if you have any pictures of Eli Holman in his red suit, please send them our way. PostmanE is Eli's biggest fan.
– One of the more exciting games of the weekend took place at Freedom Hall in Louisville as former Indiana coach Mike Davis and the UAB Blazers beat Kentucky, 79-76. With his team down 12 at the half, Davis had this to say to his team: "I told our guys at halftime that we're 15 points better than this (UK) team."
Led by former IU guard Robert Vaden, the Blazers outscored Kentucky by 15 points in the second half in what was basically a home game for the Wildcats. Vaden put on a ridiculous shooting display in the second half with six three-pointers and finished with 33 points. Vaden looks to be about 20 pounds lighter than he was the last time we saw him in a Hoosier uniform. Thanks for beating Kentucky, fellas.
– And finally, Purdue had a nice win over Louisville in the Wooden Tradition at Conseco Fieldhouse. Louisville might be the most disappointing team in the country so far this season as they were a trendy preseason pick to end up in San Antonio. That's what injuries (David Padgett and Juan Palacios) and a knucklehead (Derrick Caracter) will do to a team.
On the Boilermaker side of things, I'm really impressed with the play of the two kids from Valpo, Robbie Hummel and Scott Martin. Both guys are surprisingly polished for freshmen and will be very good four year players for Matt Painter in West Lafayette. Not that I'd ever cheer for Purdue, but it's good to see both the Hoosiers and the Boilers heading in the right direction. It'll only make for a better rivalry.
Filed to: Eli Holman, Eric Gordon, Mike Davis, Purdue Boilermakers, Robbie Hummel, Robert Vaden, Scott Martin