The Morning After: Kentucky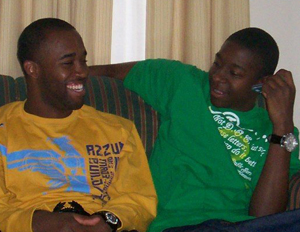 Big win, huh? After hearing early in the day that Armon Bassett would miss the game alongside Eric Gordon, I was worried. Of course, I am neurotic about wins and losses; I always think IU will lose even if it should win, and I always think games are going to be closer and more challenging than they actually should be. Still, losing Eric and Armon was supposed to mean losing 40-50 points in production. But IU compensated, played well, and feasted on a Kentucky team that is just not very good at all right now. I'll take it.
— First, that Kentucky team. How awful. I've been watching Kentucky basketball for, oh, 10 years — longer than I've been intently watching IU, thanks to a brother that used be obsessed with Kentucky — and this is by far the worst team I can remember them putting on the floor. I'm sure there have been worse teams. But this one is so thoroughly mediocre, and slow, and uncoordinated, that they never really looked like a challenge to a team missing its top two guards. That makes it tough to figure out how much of the credit for the blowout goes to the Hoosiers, and how much goes to the Cats.
— Earlier in the year, I talked about how no one on this team was a "true" point guard, and while that didn't bother me, it did bear watching throughout the season. For all his strengths, I don't see Kelvin Sampson as the most position-liberated coach out there; would he force Armon to be a distributing guard even though it's clear he's at his best as a shooter? What would he do with Jordan Crawford?
After Saturday, I think it's clear that Crawford has the potential to be an every-play point guard on this team. He still has those freshman faults — too much lateral movement against the full court press, too many traps in the corner of the half-court, etc. But he also has a fully realized skill set. He's great at attacking the basket, can shoot from the perimeter well, is athletic and big enough to guard opposing studs … he can do it all. It looks like he and Armon will complement each other really well in the next couple of years, each one doing some of the things the other can't. That gives the Hoosiers plenty of guard depth to look forward to.
(More after the jump including my thoughts on Eric Gordon's absence, Jamarcus Ellis and Sampson's control of the program.)
— I'm sure I read a comment or two yesterday saying, essentially, that because IU played so well Saturday they don't need Eric Gordon. Stop that. That's silly.
I will say this: Without Gordon, IU is a considerably slower team. Again, some of that might be Kentucky — Billy Clyde seemed really anxious to slow the game down whenever possible — but the rest of that is probably the lack of Gordon's sheer athleticism in the open floor. Crawford was really the one guard left that can operate like that in the open floor, and he is far less athletic and slower than Gordon is. Without Gordon, the Hoosiers were forced to turn to their half-court game in a larger percentage of their possessions. It's good to see the Hoosiers adapt appropriately to Gordon's absence and work on half-court team basketball in the meantime. IU is definitely not better without Gordon. A little Gordon-free experience, however, can't hurt.
— I also continue to be impressed by Jamarcus Ellis. He is the definition of solid. His one glaring flaw up to this point in the season was his desire to squeeze passes into places where passes can't do, specifically deep into a crowded zone from the top of the key. Saturday, Ellis cut down on those turnovers (he had two, with 12 points, 5 rebounds, and five assists) and maintained his, oh, what's the word? Ah yes: solid production. Solid.
— I heard a bunch of comments yesterday — including some from our own Big A — criticizing Sampson for the three suspensions he's had to make thus far this year. That, plus his own apparent lack of attention in PhoneGate, give many of you the impression that Sampson doesn't have the proper amount of control over this program, that people should start looking more closely at Sampson for the behavior of his players in addition to his own. I disagree.
I think Sampson's indiscretions in calling recruits are far, far more serious than any brief suspension he can hand out to a player. Those suspensions are the product of choices by players away from the team. I don't know what the suspensions are for exactly, but the rumors I've heard include some mix of academic issues and, in Armon Bassett's case at least — again: this is a rumor — a quick puff of the wacky tobaccy. Whether that's true or not, how is Sampson supposed to police that? Do your parents, or guidance figures, police everything you do when you're away from them? What did you get away with when you were 20 years old?
These are 18-22 year olds who are responsible for themselves in many ways. It's their job to be academically responsible; it's their job not to break team rules; it's their job to be discreet if they go out and party. Many college kids do these things, and if they get caught, they pay the price. But I'm not sure how that's Kelvin Sampson's fault. So long as he is willing to make the punishments stick — so long as he is willing to hurt his own chances of winning by suspending these players — then I find it impossible to criticize Sampson for mistakes over which he has almost no control.
The phone stuff? Fine. But for anyone else's behavior, don't blame Sampson.
— As always, your comments and additions are welcomed in the thread.
Filed to: Armon Bassett, Billy Gillispie, Eric Gordon, Jamarcus Ellis, Jordan Crawford, Kelvin Sampson, Kentucky Wildcats