No Gordon, No Bassett, No problem for IU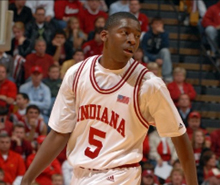 No Eric Gordon. No Armon Bassett. No problem for No. 15 Indiana.
Jordan Crawford returned from a three-game suspension to score 20 points and D.J. White added 16 points and 13 rebounds as the Hoosiers crushed Kentucky, 70-51.
Gordon missed the game with a lower back injury sustained in the Tennessee State game and Bassett was benched for an undisclosed reason.
The win marked the 23rd straight at home for the Hoosiers (8-1) and moved coach Kelvin Sampson to 21-0 at Assembly Hall.
The result was never in real doubt as the Hoosiers jumped out to a 9-2 lead, led by 12 at halftime and pulled away in the second half.
Jamarcus Ellis shifted from the wing to the backcourt and scored 15 points, grabbed five rebounds and dished out five assists. DeAndre Thomas came off the bench and scored 11 points and grabbed five rebounds.
Kentucky's leading scorer, Joe Crawford, struggled all day and shot just 4 of 15 from the field for 10 points.
Patrick Patterson was the lone bright spot for the Wildcats (4-3). The freshman forward had 15 points and five rebounds. Kentucky's third leading scorer, senior guard Ramel Bradley, scored just five points in 23 minutes before fouling out.
The Hoosiers will return to action next Saturday at Assembly Hall against Western Carolina at 8PM. That game will be televised on the Big Ten Network.
Related:
Filed to: D.J. White, Jordan Crawford, Kentucky Wildcats