The latest on EJ's injured backside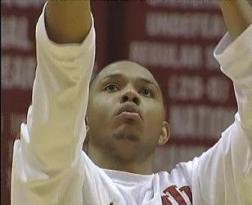 There were a few updates this morning concerning Eric Gordon's status, the most notable of which is linked at the bottom of this post. The latest, however, is from IDS basketball beat reporter Michael Sanserino.
Sanserino ran into one Eric Gordon this evening and chronicled the brief encounter on the basketblog:
So I get finished taking my final exam in my "Traditions and Cultures of IU" Online course (best course ever), and I head out of the exam room in Jordan Hall and walk right past Eric Gordon. He had just hung up his cell phone, and as I was walking by I asked him how he was feeling.

Gordon said he was feeling better and that he thought he would play on Saturday against Kentucky.
So there you have it, folks. The latest from the man himself.
Meanwhile, there is an interesting discussion over at the Hoosiers Insider on whether or not IU should play Gordon this weekend if he's not 100%.
My personal opinion is that if he's 75% or better and he's comfortable going out there, you let him play. I know some will probably say that you don't play him unless he's at full strength, but 75% of Eric Gordon is still really, really good. Ultimately, the decision will be left up to Gordon and the Indiana medical staff and I'm confident they'll make the right decision.
Related:
Filed to: Eric Gordon, Michael Sanserino