Hoosiers stop Salukis' home court streak, 64-51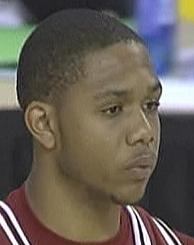 Eric Gordon scored 22 points and D.J. White added 10 points and 12 rebounds as No. 15 Indiana beat No. 22 Southern Illinois 64-51 Saturday night at SIU Arena in Carbondale, Illinois.
The win snapped the Salukis' 15-game home court winning streak.
Gordon overcame a slow start and hit 7 of 14 from the field, including 4 of 7 from three-point range, in 40 minutes.
"We made him take tough shots. As a coach you can live with guys making tough shots," Southern Illinois coach Chris Lowery said. "We made him work. He's a good player."
Indiana coach Kelvin Sampson thought Gordon did an excellent job of letting the game come to him in a hostile environment.
"Eric was a lot more composed. He didn't play like a freshman that's trying to score," Sampson said. "He played like a basketball player that had some experience."
The Hoosiers (6-1) looked to be in for a battle early on as the Salukis attacked the offensive glass and jumped out to an 8-4 lead.
Southern Illinois held a 8-3 rebounding lead in the opening minutes, but the Hoosiers recovered and won the battle on the glass, 38-29.
"We just decided to start going to the boards and rebounding. Coach got on us about that," White said.
Indiana led 34-28 at halftime and opened a 12-point lead at 46-34 with 9:18 remaining on back to back three-pointers by Gordon and Armon Bassett.
The Salukis (3-2) never got closer than nine the rest of the way.
Bassett finished with 12 points and four assists. Jamarcus Ellis added 11 points and 10 rebounds.
"It was a great win, but it's early in the season and we'll try to learn from this win and keep improving. That's the key," Sampson said.
Randal Falker paced Southern Illinois with 12 points.
Related:
(Those of you looking for The Morning After will find it first thing tomorrow morning. In the meantime: big win. Big win.)
Filed to: D.J. White, Eric Gordon, Southern Illinois Salukis