Game Thread: Indiana vs. Illinois State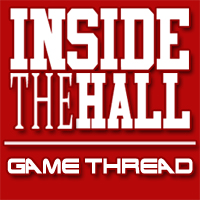 Opponent: Illinois State (Chicago Invitational Challenge)
Date: Friday, November 23, 2007 | 8:36 EST

Arena: Sears Centre (10,000) – Hoffman Estates, Illinois

TV: Big Ten Network; Radio: IU Radio Network
Probable Starters:
Indiana (3-0): Armon Bassett, Eric Gordon, Jamarcus Ellis, DeAndre Thomas, D.J. White
Illinois State (3-0): Osiris Eldridge, Boo Richardson, Dom Johnson, Anthony Slack, Dinma Odiakosa
Keep an eye on:
Guard play: Both teams are led by high scoring guards. For the Hoosiers, Eric Gordon is second in the nation at 28.0 ppg. Osiris Eldridge, the MVC's freshman of the year a season ago, is averaging 21.7 ppg for the Redbirds.
Something's gotta give: Illinois State is holding opponents to 60.0 ppg while Indiana is third in the country at 98.0 ppg.
Shooting the three: The Redbirds are attempting 22.6 three's per contest thus far, while Indiana is not far behind 19.7. Illinois St. is shooting 44.1 percent while the Hoosiers are at 54.2 percent.
As always, your predictions and comments are welcome in the game thread.
Filed to: Illinois State Redbirds