The Morning After: UNC-Wilmington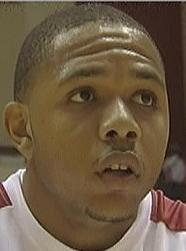 We're only two days removed from the Longwood blowout and, predictably, some patterns are forming. Onward:
— First, a quick observation about Eric Gordon: What sets Gordon apart from the average highly touted freshman is his sheer athleticism. He doesn't need to rely on his athletic ability; without it, he'd still likely be a very effective player, and certainly a great shooter. But with it, Gordon is a sheer terror. With one dribble, he can get to the basket from any angle. In the open court, he shifts and turns but mostly just barrels straight at overwhelmed defenders. In the half court, he can turn a screen at the top of the key into an easy layup. When he gets in the lane, he effortlessly clears defenders away with his shoulders. In every way, his athletic ability — that vicious, calculating strength and speed — elevate him from "great player" to "possibly transcendent." And this is after three games.
— For now, I remain cautiously optimistic about IU's habit of slow starts. In each of the past three games, the Hoosiers have struggled to build a lead — and have, as they did against Wilmington, even fallen behind — before taking the game over and winning handily. I'll call IU's slow starts the product of a largely new team getting used to each other and getting used to playing different teams each night … but slow starts like that are the pathway to upsets against more capable teams later in the year. Hopefully IU can start to figure things out earlier in their next few games.
— Dare I say it, but last night showcased Lance Stemler at his finest. I've long said that Stemler is of no use to the Hoosiers if he can't hit shots. Last night, though, Stemler didn't even try to assert himself offensively; instead, he hedged high screens well, kept loose balls alive, and did all of the grit-tacular things I usually make fun of people for dwelling too much on. It's a limited role for Stemler, but on a team of very talented players (most of whom can shoot threes), all Lance needs to do is be solid. No turnovers, no dumb shots, et al. He did that last night. As long as he keeps doing it, he'll deserve his well-won minutes.
(Hit the jump for stuff on DeAndre Thomas, Armon Bassett, and the Big Ten Network. Go on, jump. You might as well!)

— DeAndre Thomas is already a predictable player — he shoves his way to baskets, and he does a lot of sharp ball fakes, and that's about it — but Thomas' predictability is of a thoroughly effective kind. You can know Thomas is going to throw his weight into you and still be unable to stop it; Wilmington's bigs certainly couldn't. Thomas isn't anything like a star, but he is a big, solid body with surprisingly good hands. Nothing to complain about in that package.
— Don't look now, but Armon Bassett is a scorer, man. His shot looks better than ever, and even if it fails him temporarily this season his twisting, countering drives seem more than enough to keep his scoresheet contributions high. One problem with this picture, unfortunately, is that not only is Bassett terribly suspect on defense — the difference between when he and Gordon guard the other team's point guard is almost cringeworthy — Bassett is also revealing himself to be less a point guard than an undersized off-guard. Right now, that gives the Hoosiers approximately zero "pure" point guards. It's not something to worry about unless turnovers become a problem for this team; in that case, I nominate Eric Gordon to bring the ball up every time. Just a thought.
— Whether by design or because so many shots are now going to Gordon and Bassett, D.J. White saw few (if any; the memory fails) designed post plays run in his direction. A diverse guard-centric offense is preferable to a consistently obvious post attack, but it stands to reason White will see an increased share of the team's post touches in the next few games.
— After a few days of the Big Ten Network, well, let's just politely say that BTN's on-air talent leaves a lot to be desired. Dave Revsine, their all-purpose former ESPN-er, is the one enjoyable studio personality. The rest are either dry or just not very good on TV. It's only a conference network, and it's new, and all of that stuff … but the mute button should never, ever be preferable to play-by-play. Right now, on the Big Ten Network, it is.
As always, your additions in the comments.
Filed to: Armon Bassett, D.J. White, Dave Revsine, DeAndre Thomas, Eric Gordon, Lance Stemler, Morning After