It's Official: Mike White will redshirt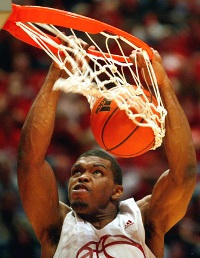 This seemed to be an almost foregone conclusion with him riding the pine the entire first two games of the regular season, but now, straight from Kelvin Sampson's mouth we have official word: Mike White will redshirt this season. It was confirmed by the coach tonight on his "Inside IU Basketball with Kelvin Sampson" radio show. (Thanks to ITH reader Big T, who attended the show, for the heads-up on this one.)
The Hoosier Scoop live-blogged Sampson's show tonight and they have the same information as well. So, what does this mean? Well, I suppose Sampson might be worried about depth up front next season and saw fit to hold on the White for that very reason. White had a few flashes of brilliance last season. He can defend and block shots well enough, but his offensive game could stand a little polish as could his free throw shooting. He's strong, yet undersized for his position. Hopefully he can improve and provide a spark off the bench next season even though he's getting zero in-game experience this year.
Lastly, I know the scholarship situation was a cause of concern for some of you out there. Here's how I understand it. Taking a glance at Peegs' scholarship numbers — which factors in White for next year — we'd have all 12 of our scholarships eaten up. (We lost one because of the coaching staff's impermissible phone call debacle.) However, that chart also figures Eric Gordon into the mix for next season, which, as we all sadly know, probably ain't gonna happen.
So, presumably, if Sampson wanted to go out and get someone during the spring period for the 2008-09 class, he could. Or, we could hold pat and have one open, as we do this season. I'd be willing to bet IU just sticks with the four we have coming in for next season, because Gordon's possible going pro announcement might come after the signing period.
Thoughts on this, ITH faithful?
Filed to: Eric Gordon, Kelvin Sampson, Mike White