Is it OK to boo Lance Stemler?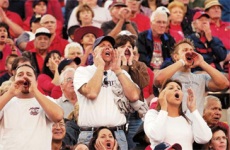 I've yet to catch an IU game this year — that all changes Friday when DirecTV comes over, hopefully — but by all accounts Lance Stemler had a rough go of it Monday. He was out of position; he looked lost; he didn't do much of anything right. So, in turn, the boo birds started chirping their sweet song at Assembly Hall. This then raises the question: is it OK to boo him? And futhermore, is it OK to boo any Hoosier basketball player?
I think there's a few avenues to explore here. We don't necessarily boo Lance because of how he played Monday. (Well, OK, maybe we do.) But really, we boo him based off what we know he can be — off of past performances. We saw him hit threes with consistency last year, grab key rebounds and display the girt and intangibles important to any team for success. But after his concussion — and add to that the fact he was playing injured for most of the season, unannounced, mind you — that all got lost somewhere in the fray. (Although, he did have a solid NCAA tournament run.) So when we see him out there as a starter and a captain, we expect more.
It's the same thing with Sean Kline. He came in to IU as a highly-touted in-state recruit. But he never quite panned out and was unmercifully booed almost every step of the way his last year or two inside Assembly Hall. Did he deserve it? Maybe, maybe not. But we gave it to him, because we thought somewhere deep inside of him, there was a better player in there and we so desperately wanted it to come out. In the case of a guy like Ben Allen, there was a smattering of boos here and there last year. (I think, at least.) He never got the assault Kline got — or Stemler is perhaps currently getting — because there was always this hope with him that he was going to get better. His career line graph exists as an opposite to Kline's and Stemler's, it was trending upwards. Hey look: he's trying to be a post player now! If he can just harness that size a bit, this could work out. We kept waiting … it never happened. But see, there was never this expectation with Allen, because he came here as a huge 3-point shooter. He didn't come to IU as a post project. Think about it: would we ever boo Adam Ahlfeld? Of course not. We don't expect brilliance from him. We expect him to cheer a lot and chuck up threes at the end of blowouts. We love that about him.
So, in the end, are we justified in our booing of Stemler? I'd lean more towards yes than no. But it's not because we hate him or want to see him fail. It's because we know he can succeed. We want him to succeed.
Note: In case you don't dig into the comments, I was just trying to explain why people boo here and why — as paying fans — they have the right to do so. Probably shouldn't have used "we" so egregiously. That's what is probably throwing people off here. I'd certainly never advocate kicking a guy — especially an IU player — while he's down. That being said: I can see both sides of the argument.
Filed to: Adam Ahlfeld, Lance Stemler, Sean Kline