Ratliff still a Hoosier, rumor untrue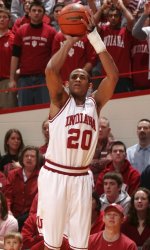 According to Doug Wilson of the Hoosier Scoop, the rumor regarding A.J. Ratliff that circulated last night and this morning is not true:
A.J. Ratliff has not been kicked off Indiana's basketball team, according to IU basketball spokesman J.D. Campbell.

Ratliff is still part of Indiana's basketball program, Campbell said, and will be on the bench for tonight's season-opener against Chattanooga.

Campbell did not explain Ratliff's absence from the bench for IU's exhibition game Saturday against Pembroke, saying that is between coach Kelvin Sampson and the team.

Ratliff will be on the bench in street clothes. As previously reported, he is academically ineligible to play during the first semester.
Welcome news for all Hoosier fans. It still doesn't explain Ratliff's absence on Saturday, but it's good to know he's still with us. His defense will be key on the perimeter the second half of the season.
Filed to: A.J. Ratliff, Rumor