Game Thread: Chattanooga @ Indiana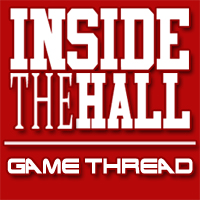 Opponent: Chattanooga
Date: Monday, November 12, 2007 | 7:00 EST

Arena: Assembly Hall (17,456) – Bloomington, Indiana
TV: Big Ten Network; Radio: IU Radio Network
Finally, what we've all been waiting for. A game that actually counts. It's the official debut of Eric Gordon. It's the first game of D.J. White's senior season. And hopefully, it'll be a grand opening to the season for the No. 8 Hoosiers. And by grand opening I mean exactly the opposite of what happened to Kentucky (in their second game) and Southern Cal.
Once again, I'll be looking for a better effort on the defensive end of the floor. (Hopefully this doesn't become the case before each game.) The Hoosiers must step up their intensity in that facet of the game. My main critique from the first two games is the perimeter defense (sans Eric Gordon who has shown us excellent on the ball defense).
There have been too many open looks from the outside and too many easy drives into the lane. It's time to get a hand up in the face on the three-point shot and not let your man drive around you. Chattanooga is a step up from North Alabama and UNC-Pembroke, fellas. Let's treat them as such.
As will be the case all season on the road to San Antonio, your comments are welcome here in the game thread. I'll post periodic updates, just follow the link below, for those of you left in the dark due to the Big Ten Network fiasco.
In-Game Blog:
Indiana 99, Chattanooga 79 (final): Recap coming shortly.
Indiana 93, Chattanooga 75 (4:01): D.J. White is back on the bench with a band-aid on his head and looks to be alright. I imagine he could have quite a headache later on based on the fall he took. Sampson just called a 30-second timeout to get his team refocused after a couple of questionable three-point shot attempts.
Indiana 88, Chattanooga 71 (6:09): Scary moment as D.J. gets his legs taken out from under him. He falls hard and leaves the court with some blood to a standing ovation. Doubt he'll return and he heads to the locker room.
Indiana 88, Chattanooga 71 (6:22): Another three for Gordon. He's got 32. Is there any doubt he's the best freshman in the land?
Indiana 85, Chattanooga 71 (7:31): The Hoosiers are pulling away led by Gordon (29), White (17) and Bassett (13). Jamarcus Ellis is also playing much better in the second half. He's an outstanding passer. IU's shooting at a 57 percent clip and they've forced 15 turnovers.
Indiana 78, Chattanooga 67 (8:59): Perhaps the most amazing play of the night for Eric Gordon happened just a moment ago when he crossed over Stephen McDowell and hit a 24-footer.
Indiana 65, Chattanooga 57 (12:48): 21 for Eric Gordon and 13 for D.J. White and the Hoosiers are playing much better in the second half. Gordon's defense has been nothing short of amazing. No sign of Lance Stemler in the second half, but DeAndre Thomas is playing well in his spot. The Chipola J.C. product has seven points.
Indiana 56, Chattanooga 52 (15:27): The Hoosiers have picked up the defensive pressure in the second half, led primarily by Gordon's defense on Kevin Bridgewaters, for a 10-2 run thus far. Whatever Kelvin Sampson said at halftime resonated.
Indiana 50, Chattanooga 50 (18:28): Ridiculous dunk on the break by Eric Gordon brings the court to their feet as the Mocs call a timeout. Gordon is on Bridgewaters for the second half as Kelvin Sampson wants his best defender on Chattanooga's leading scorer.
Chattanooga 50, Indiana 46 (halftime): After leading by 11, the Hoosiers allowed a 15-point swing and trail by four at halftime. The most concerning thing to me is the lack of defense. They've given up 50 points on their home court. Far too many open three's and easy layups. They're also being out-rebounded and have more turnovers than the Mocs. Give Chattanooga credit for coming into Assembly Hall and playing an excellent first half. IU has to step up the intensity on defense or this game could go down to the wire.
Chattanooga 44, Indiana 40 (3:12): The Mocs are now 7 of 18 from three and IU has nine turnovers. Too much one-on-one going on for IU and not enough set offense. Chattanooga is also winning the rebounding battle 13-11.
Chattanooga 41, Indiana 40 (3:55): Too many threes being taken by the Hoosiers and right now they're being out worked by the Mocs. Chattanooga is getting the loose balls and the Hoosiers aren't running their offense through D.J. White.
Indiana 34, Chattanooga 30 (7:25): Some sloppy ball handling by the Hoosiers along with some more excellent shooting has the Mocs right back in the game. They're on a 12-5 run. Kevin Bridgewaters has 10 points and he's four of four from the field. Eric Gordon left the game briefly for a rest, but he'll return after the timeout. Gordon is leading IU with 10 points and Bassett and White have eight each.
Indiana 27, Chattanooga 18 (11:11): Quick five point run for IU on a Gordon three and a break away layup for Bassett created by the defense.
Indiana 22, Chattanooga 18 (11:53): Bassett and Gordon controlled the last four minutes. Gordon put up five points and Bassett returned for a three. The Hoosiers are giving the Mocs opportunities from the perimeter and Chattanooga is capitalizing with three triples. DeAndre Thomas entered for the first time and has two quick points. The game is going at a brisk pace which seems to favor the Hoosiers.
Indiana 10, Chattanooga 8 (15:51): Gordon is 1 of 3 for two points early. He's taken two three-pointers that have just missed. He just showed us his excellent passing ability with a rocket outlet pass to Jordan Crawford to start a three-point play to put the Hoosiers ahead. I'm noticing more intensity out of the Hoosiers on the defensive end, which is a good sign. D.J. got his only bucket on a 15-footer from the left wing.
Lineups: Chattanooga: Stephen McDowell, Marcus Watts, Kevin Bridgewaters, Nicchaeus Doaks, Khalil Hartwell; Indiana: Armon Bassett, Eric Gordon, Jamarcus Ellis, Lance Stemler, D.J. White
Pregame (6:30 EST): A lot of the talk focuses on the availability of Armon Bassett for tonight's opener. Kelvin Sampson said after Saturday's contest that Bassett could have returned against UNC-Pembroke, but there seems to be a little bit of doubt about how much action Bassett will see this evening. Also, IU moved up a spot in each poll to No. 8 after Michigan State fell following their loss to Grand Valley State. Eric Gordon's official debut in the Cream and Crimson is just thirty minutes away, folks.
Filed to: Chattanooga, D.J. White, Eric Gordon