Report: Rob Senderoff will resign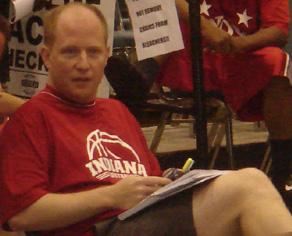 According to Jeff Goodman of Fox Sports, Indiana assistant coach Rob Senderoff will resign from his post as an assistant coach.
This would explain Senderoff's absence from Friday's open practice as well as Kelvin Sampson's unwillingness to discuss Senderoff at Sunday's Big Ten media day.
Indiana assistant coach Rob Senderoff will resign Monday in the wake of the recent phone scandal involving the Hoosiers, according to two sources close to the program.

Senderoff has become the "fall guy" for Indiana head coach Kelvin Sampson, who came to Bloomington and was immediately hit with NCAA sanctions back from his days at Oklahoma.
Before coaching at IU, Senderoff worked at Towson, Yale, Fordham, Miami (OH) and Kent State. He was generally recognized as one of the top upcoming names in coaching and was the main recruiter for Coach Sampson. He is believed to be a primary reason the Hoosiers landed New York area recruit Devin Ebanks.
No official word yet from Indiana on the resignation, but speculation has already begun that Dan Dakich will move from the Director of Basketball Operations post to Senderoff's vacated spot.
(Mike DeCourcy of the Sporting News ripped IU's handling of the situation here.)
Filed to: NCAA allegations, Rob Senderoff